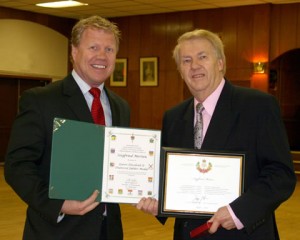 Merten Financial Inc. was established by Siegfried Merten.  Siegfried is self employed, in business since 1976 and has an almost 30 year experience in the area of taxes.  He expanded his knowledge into bookkeeping/accounting through extensive studies with the Knowledge Bureau (formerly Jacks Institute) and earned the distinction of Master Financial Advisor with honors back in 2007.
Siegfried lives in St. Catharines since 1988, is as a long standing member of the German Club Heidelberg and has been very active in the community.  In acknowledgements of his merits he received the Queen Elizabeth II. Diamond Jubilee Award in April 2013.  He is fluent in German and became more and more an expert regarding German taxation issues since foreign pensions were being taxed starting in 2010.  He made it his mission to inform the affected public all across Canada about the constant changes through newspaper articles.  As a regular guest speaker at conventions and seminars he advises his fellow associates on the implications of the German taxation requests and the procedures to follow in order to be compliant.
---
Merten Financial Inc. wurde  von Siegfried Merten ins Leben gerufen.  Siegfried ist seit 1976 selbstständiger Geschäftsmann und hat eine fast 30jährige Erfahrung auf dem Gebiet der Steuererklärungen.  Er erweiterte sein Wissen auf dem Gebiet der Buchführung/ Lohnbuchhaltung mit einem intensiven Training durch das "Knowledge Büro"  (früher Jacks Institute)  und erarbeitete sich den Rang eines Finanzberaters im Jahr 2007 mit hohen Auszeichnungen.
Siegfried ist seit 1988 in St. Catharines, Ontario ansässig, ist ein langjähriges Mitglied im dortigen Klub Heidelberg und war sehr aktiv in der Gemeinschaft tätig.  Wegen seiner Verdienste in dieser Gemeinschaft wurde er im April 2013  mit dem Königin Elizabeth II. diamantenen Jubiläumspreis ausgezeichnet.   Er spricht fliessend deutsch und hat sich seit der Einführung der Besteuerung der deutschen Rente im Ausland im Jahr 2010 immer mehr auf dieses Gebiet spezialisiert.   Er hat es sich zur Aufgabe gemacht, alle davon Betroffenen durch Zeitungsartikel auf dem neuesten Stand zu halten.  Als regelmässig geladener Gastsprecher bei Seminaren oder Konferenzen unterrichtet er auch seine Fachkollegen über die Bedeutung der deutschen Steuermassnahmen und die Verfahrensweisen, die nötig sind um Folge zu leisten .